Martxoak 15, Bergaran, AHTren aurkako elkarretaratzea (11:30-13:30)
Hurrengo larunbata, martxoak 15ean, AHTren aurkako elkarretaratzea antolatu dute Bergarako obretan, zubiaren azpian. El próximo sábado día 15 de marzo debajo del puente de las obras del TAV en Bergara, se realizará una concentración de denuncia de esta gran infraestructura despilfarradora de miles de millones de euros y de gran cantidad de recursos públicos, que supone el proyecto de alta velocidad ferroviaria o también llamado "Y vasca". La concentración que se desarrollará bajo el lema "Despilfarroa Gelditu!, Aski da!, Ez dugu ezertarako behar!" empezará a las 11:30 y durará hasta las 13:30. Asi mismo a las 12:30 tendrá lugar un pequeño acto informativo sobre los motivos de dicha concentración. También habrá sidra y chorizo para todas las asistentes. Animaos a acudir!!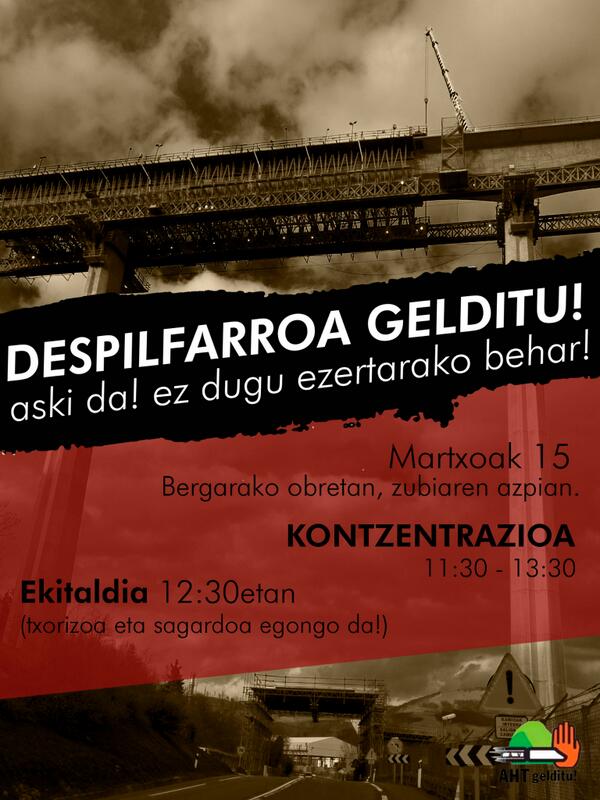 This entry was posted on Asteazkena, martxoa 12th, 2014 at 6:01 pm and is filed under Agenda, Albiste nagusiak, Albiste orokorrak, Mobilizazioak. You can follow any responses to this entry through the RSS 2.0 feed. You can leave a response, or trackback from your own site.