TAV: Este miércoles charla en Bilbao con Germá Bel y David Hoyos
HITZALDIA: "EUSKAL Y AL DA EUSKAL HERRIAK BEHAR DUEN TRENBIDE EREDUA?"
Datorren asteazkenerako, 2015eko martxoaren 4rako, AHTren aukako AHT Gelditu! Elkarlana koordinakundeak, abiadura handiko Euskal Y-aren etorkizunari buruzko hitzaldi interesgarria antolatu du gaian aditu diren David Hoyosen eta Germá Belen kontura, Bilboko La Bolsako lokalean (Pelota kalea, 10) arratsaldeko 18:30ean. Hitzaldiaren izenburua "Euskal Y al da Euskal Herriak behar duen trenbide eredua?" da. Deialdi interesgarri hau norbere hedabideetara zabaltzera gonbidatzen zaituztegu.
CHARLA: "ES LA Y VASCA EL MODELO FERROVIARIO QUE EUSKAL HERRIA NECESITA?"
Este miércoles día 4 de marzo de 2015 organizado por la Coordinadora de oposición al TAV, AHT Gelditu! Elkarlana, en Bilbao, en el local de La Bolsa (c/ Pelota, 10) a las 18:30 de la tarde tendrá lugar una interesante charla sobre el futuro de la Y vasca de alta velocidad ferroviaria, a cargo de dos expertos en la materia, David Hoyos y Germá Bel. La charla llevará por título "¿Es la Y vasca el modelo ferroviario que Euskal Herria necesita?". Les invitamos a difundir en sus medios informativos esta interesante convocatoria.
————————————
Perfil de los ponentes:
–Germá Bel es Licenciado en Ciencias Económicas por la Universitat de Barcelona (1986), Master en Economía por la University of Chicago (1988), y Doctor en Economía por la Universitat de Barcelona (1993, Premio Extraordinario). Catedrático de Universidad. Profesor visitante en Cornell University durante el año académico 2004-2005. Investigador visitante en Harvard University durante 2005-2006. Profesor invitado en la Barcelona Graduate School of Economics desde 2007. Investigador visitante en el European University Institute (Florence School of Regulation) durante mayo-julio 2009 y en Princeton University 2013-2014. Investigador ICREA-Academia (2011-2015)
Temas de investigación
Economía Política, Reforma Sector Público, Privatización, Regulación, Transportes e Infrastructuras
–David Hoyos es Doctor Europeo en Economía por la Universidad del País Vasco (UPV/EHU), M.A. (econ) en Economía del Desarrollo por la Universidad de Manchester (RU) y Licenciado en Ciencias Económicas y Empresariales por la Universidad del País Vasco (UPV/EHU). Investigador en la Unidad de Economía Ambiental entre 2002 y 2010, financiada por la Sociedad Pública de Gestión Ambiental, IHOBE, S.A., y profesor en el Departamento de Economía Aplicada III (Econometría y Estadística) en la Universidad del País Vasco desde 2010. Investigador visitante en 2009 en la Queen's University Belfast (RU).
Temas de investigación
Su principal área de investigación se centra en la valoración económica de recursos naturales. La investigación actual incluye el desarrollo de avances metodológicos y econométricos relacionados con los métodos de valoración económica, asi como la relación entre transporte y medio ambiente.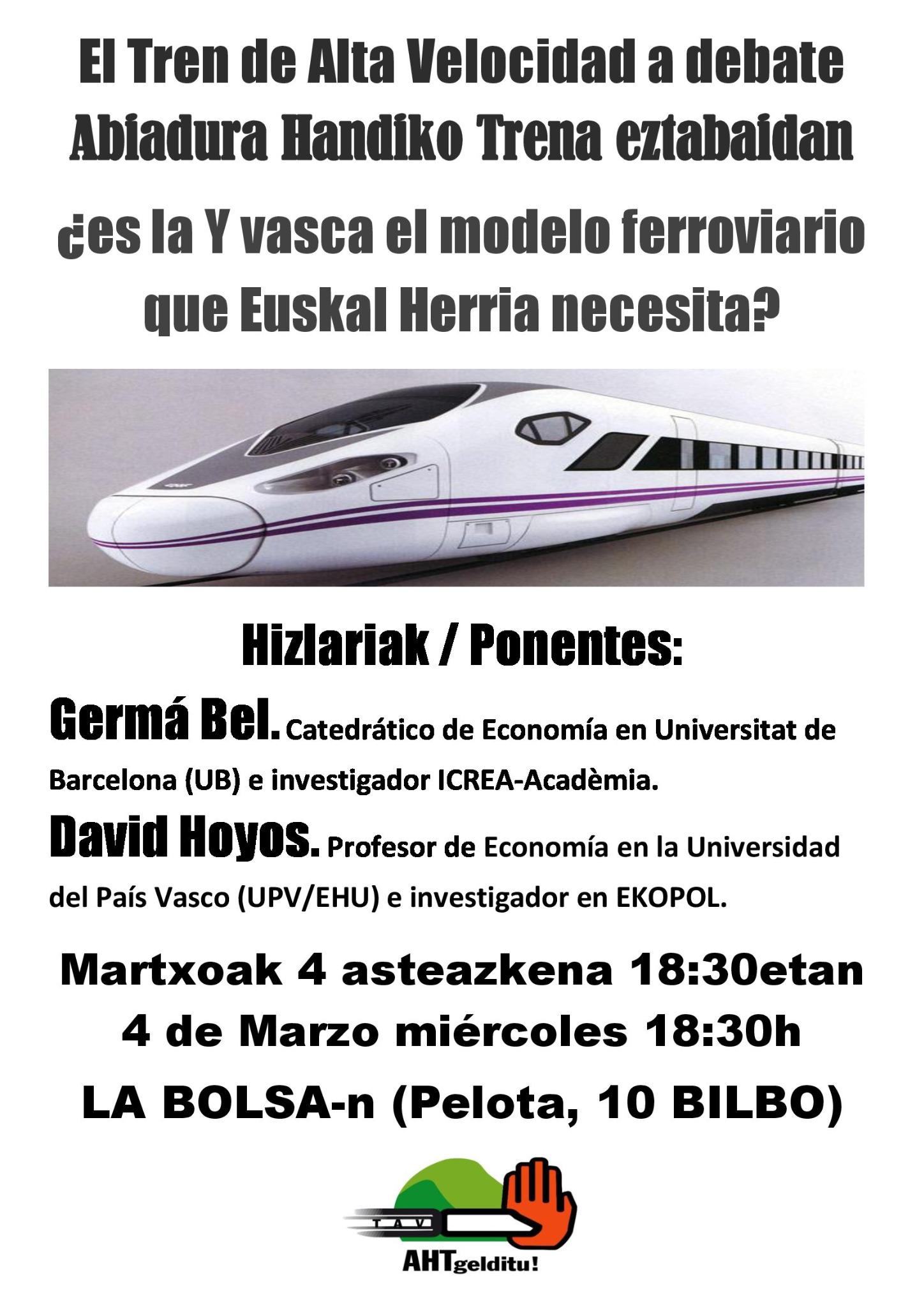 This entry was posted on Astelehena, martxoa 2nd, 2015 at 20:15 and is filed under Agenda, Albiste nagusiak, Albiste orokorrak. You can follow any responses to this entry through the RSS 2.0 feed. You can leave a response, or trackback from your own site.